You are currently browsing the category archive for the 'Daring Bakers' category.
There is no easy way to say what we're about to say but we sadly have to tell you that the Dec 2016 challenge will be the last daring kitchen challenge. Through the past two years we have tried everything we could think of to breathe life back into the daring kitchen but sadly the interaction and the number of members who actually take part in each challenge have been on a steady decline. We no longer see the point in asking hosts to put all that time and effort into making, photographing and writing challenges only to have a handful of people take part in them. It is really no one's fault but unfortunately it seems that the time for the daring kitchen has come to an end.
It has been a true pleasure to be part of the daring kitchen for all those years and an honor to run it in the past two. We just have one last favor to ask of you, we need your in help moving the archive. We are planning to move all the daring kitchen archives to a wordpress blog – for each recipe, the text needs to be copied, the images and pdfs saved, then everything rebuilt on wordpress. It will be a huge job, but worth the effort – we can then share the url and password with anyone who wants to pitch in, then publish once it is ready and rolling.
If you would like to help, leave a comment here or send an email to Rachael (rachael@pizzarossa.me) or to Sawsan (thechefindisguise@gmail.com). Finally, we would like to thank each and every one of you. The daring kitchen has been an amazing community through all these years. We have learnt so much from each other and there aren't enough words to express our gratitude for the kindness and support that you all showed us through these past two years.
This final Daring Kitchen Challenge is hosted by Francijn Brouwer, from Netherlands who blogs on "Koken in de Brouwerij" and has previously hosted challenges including "Stuffed Speculaas" and "Baumkuchen". This month she challenges everyone to bake oliebollen, commonly called Dutch Donuts. Nearly every Dutch person eats oliebollen on New Year's eve. Everywhere in The Netherlands you will find mobile oliebollen bakeries during the winter months.
The historical roots of oliebollen can be traced back to the Batavians and Frisians around the start of this era. At that time they were not round but flat, cooked in a small amount of oil and were called oliekoeken. In the middle ages a tradition was born of giving the poor people oliekoeken when they came to wish you a happy new year. Only in the wealthy 17th century people started to use more oil, and make these round oliebollen. Olie (pronounced: ow-ly) means oil and Koeken (singular: koek, pronounced: cook, cooken) is something like big cookies.
The cheapest oliebollen are just plain without filling and the worst are cooked in too cold or old oil, and are soggy. As I usually steer clear of fried stuff, I might have skipped this challenge, had it not been our very last chance of baking together with my fellow Daring bakers. I deliberately scooped my oliebollen smaller than the regular ice cream scoop size to create mini versions which I served warm with mango & pineapple jam on the sides.
OLIEBOLLEN
Ingredients:
300g / 2 1/2 cups whole wheat flour
200g / 1 1/2 cup plus 5 teaspoons all-purpose flour
10g / 3 teaspoons instant yeast
10g / 1 1/2 teaspoon kitchen salt
25g / 2 tablespoons caster sugar (light brown)
3g / 1/2 teaspoons ground cinnamon
150ml / 1 cup plus 2 tablespoons brown beer
175ml / 3/4 cup water (room temperature)
175ml / 3/4 cup milk (room temperature)
50g / 3 1/2 tablespoons unsalted butter (melted)
1 small egg, room temperature (beaten)
200g (7 oz., or 1 1/3 cups) raisins (without clumps)
1 small apple or half a big apple (firm variety)
Method:
In a large mixing bowl mix flours and yeast with a whisk. Add salt, sugar and cinnamon, and mix again.
Add beer, water and milk, melted butter, and egg. Attach the paddle to your mixer (or the dough hook).
Mix the ingredients thoroughly until the dough becomes elastic, a few minutes. Let rest for 15 minutes.
In the meantime cut the apple in small cubes. Add raisins and apple to dough, mix well with a spatula.
Put a wet towel over the bowl, and let the dough rise for about an hour until it is nearly doubled in size.
Put the oil in your deep fryer. Heat it to 180°C / 355°F. Have a timer handy to keep track of frying time.
To get ready for cooking: place baking tray on the counter and cover it with two layers of paper towels.
Have something ready to place scoops/spoons on so as to not cover your working counter with grease.
Once dough has doubled in size and the oil is hot, dip your ice scoop in the oil to avoid it from sticking.
Fill with dough, leveling against the side of the bowl. Take care to include reasonable amount of filling.
Release the dough ball carefully into the hot oil, by sticking the scoop into the oil and pulling the lever.
Start timer and observe the oliebol. It will start floating around, and after some time, should turn over.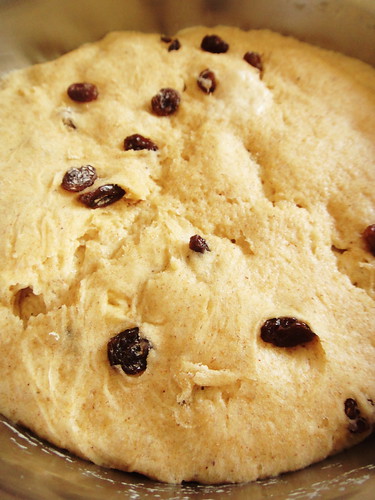 If the oliebol does not turn over, help it by flipping it when the frying time is halfway over, using a fork.
After five minutes of frying, take it out of the oil and put it on the tray with paper towel. Wait a minute.
Cut it through the middle with a sharp knife and check the centre of oliebollen for a bread-like texture.
If you are satisfied with the doneness of the texture, start again, but now with a few oliebollen at once.
Keep frying till no dough is left, and make sure the oliebollen are all same size for even cooking times.
Oliebollen are best when eaten when they are still hot and crunchy and sprinkled with powdered sugar.
Makes 25 oliebollen (each around 6cm / 2.5″ in diameter). Do not store oliebollen in the refrigerator.
Oliebollen freeze very well. Just put them in an airtight container and you can enjoy them for months.
Daring Bakers December 2016 Challenge
This month's challenge is hosted by Ginger-Z who is pleased to present Torta Della Nonna/ Grandmother's Cake. Italian 'torta' translates as cake, often a dense, single layer cake and many Italian cakes that are plain and simple are often highlighted by a regional/seasonal nut or fruit. This 'torta' however resembles a pie (pizze) or a tart. As Ginger researched this traditional Italian dessert, she realized that many regions in Italy claim this dessert as their invention.
Each region offers a similar recipe: a pasta frolla (a sweet, eggy short dough) for the shell and a filling that is either a pastry cream (crema pasticceria) or sweetened (usually, but not always ricotta) cheese, topped with pine nuts (or almond slices) and dusted with powdered sugar. One more advanced version even had a Genoise sponge cake layer between the pasta frolla base and the filling, probably meant for more 'daring' bakers.
Some versions encase the filling with pasta frolla on the bottom, sides and top, while other versions use pasta frolla only on the bottom and sides. It is best to use room temperature eggs and room temperature heavy cream when assembling the pasta frolla and the pastry cream. The pasta frolla dough is a very soft one, so if you live in a hot and humid climate, you may need to refrigerate the dough after rolling it out between parchment paper.
Since we're right in the middle of summer here in Mauritius, it was downright difficult to get the pasta frolla right. For every few minutes, the soft sticky dough had to be refrigerated to make it workable. The pastry cream was luckily more stable at room temperature and I could not resist adding a swirl of whipped cream to give it some extra oomph. For the topping, I did not manage to get pine nuts, so it had to be toasted almonds on my first torta.
TORTA DELLA NONNA
Ingredients:
For the Pasta Frolla
2 1/3 cups / 290g unbleached all-purpose flour
1/3 cup / 65g granulated sugar
1/2 teaspoon kosher salt or 1/4 teaspoon fine salt
1/2 teaspoon baking powder
Freshly grated zest of 1 lemon or 1 small orange
3/4 cup / 1 1/2 sticks / 170g / unsalted butter, cold
1 large egg + 1 large egg yolk
1/2 teaspoon pure vanilla extract
1/4 cup / 60ml / 2 fl. oz. heavy cream
A few drops of ice water, if necessary
For the Pastry Cream/ Crema Pasticceria
2 cups / 480ml / 16 fluid oz. whole milk
Two 3″ / 8cm long strips freshly peeled lemon zest
1/2 vanilla bean, seeds removed
5 tablespoons/ 65g granulated sugar, divided
4 large egg yolks, room temperature
Pinch of kosher salt/ kitchen salt
1/4 cup/ 30g unbleached all purpose flour
1 tablespoon / 15g unsalted butter, softened
For the Torta della Nonna Topping
1/2 cup / 65g pine nuts, toasted and cooled
Powdered sugar, for garnish
Bittersweet chocolate, for garnish
Method:
Place the all-purpose flour, sugar, salt, baking powder and citrus zest in the bowl of a food processor.
Pulse several times to combine the dry ingredients, then add all of the cold, cubed butter to the bowl.
Pulse to process the mixture till it is sandy and there are no visible lumps of butter. Set mixture aside.
In small bowl, whisk together egg, egg yolk, vanilla extract and heavy cream. Add the wet ingredients.
Pulse until dough comes together. Add some ice water, a few drops at a time for dough come together.
Remove dough from the food processor and work it with your hands to even out any dry and wet spots.
Form the dough into a ball, flatten into a disk, wrap in plastic and chill until firm 1 to 2 hours in fridge.
The dough can be frozen for up to 2 months. For the pasta frolla assembly, remove dough from fridge.
Roll the tart dough on a floured surface to 1/8-inch/3mm thickness between two pieces of parchment.
Place a 9″ /23-cm spring form pan on top of dough. Using a knife, trace a circle around outside of pan.
Leave an extra 3/4″ / 2cm parchment all around. Place the circle of dough inside the spring form pan.
Press dough onto the bottom and sides. The dough should come up about 3/4″/2cm around the sides.
Pierce the bottom with a fork. Cover with plastic wrap; place pan in refrigerator to chill for 20 minutes.
Preheat the oven to 350°F / 175°C / Gas Mark 4 and position the baking rack in the center of the oven.
While the tart shell is chilling, prepare the filling. Place the milk and lemon zest in a medium saucepan.
Scrape seeds from ½ vanilla bean with the flat side of a small knife. Add seeds and the bean to the pan.
Add in 3 tablespoons granulated sugar and place the saucepan over medium heat. Keep stirring mixture.
Meanwhile, place the egg yolks in a medium bowl and whisk them with 2 tablespoons of sugar and salt.
When the milk mixture begins to boil, remove from the heat. Quickly whisk the flour into the egg yolks.
Then whisk in few splashes of the milk mixture. Gradually add more milk mixture, whisking constantly.
Return mixture to the saucepan and cook over low heat; whisk constantly until it has thickened enough.
Remove saucepan from heat and strain it through a fine mesh sieve to remove the zest and vanilla bean.
Transfer the pastry cream to large, shallow bowl and whisk in butter. Press plastic wrap over its surface.
This will prevent a skin from forming on top. Remove the chilled pasta frolla shell from the refrigerator.
Tear a large sheet of aluminum foil/ parchment paper and press it against the entire surface of the shell.
Fill the shell with pie shell weights or dried beans or rice to cover the surface of foil or parchment paper.
Blind bake shell for 15 minutes. Carefully remove foil or paper and weights and return the shell to oven.
Bake shell for an additional 5 to 7 minutes or until it is light golden brown. Remove tart shell from oven.
Allow to cool for 10 minutes. Pour pastry cream into the warm pie shell, smoothing the top with spatula.
Allow pastry cream and shell to cool completely so the cream sets into the shell. Cover with plastic wrap.
Transfer the tart to the refrigerator to chill. To serve, carefully remove the sides of the spring form pan.
Transfer tart to serving plate and scatter toasted pine nuts and chocolate evenly over the top of the tart.
Serve cold or at room temperature. Wrapped in plastic, leftovers will keep in refrigerator for a few days.
This month's challenge was brought to us by Korena from Korena in the Kitchen who challenged the group to make decorated Swiss rolls in the style of Japanese food blogger and cookbook author Junko, who has taken the internet by storm with her adorable kawaii versions. This concept is a standard French pastry technique with the use of décor paste to create a pattern on a joconde sponge (which was tackled by the Daring Bakers back in 2011), and making it into a Swiss roll is an obvious next step. Korena decided to first try it the French way. Unfortunately the results were not stellar – the décor paste cracked and the filling escaped when the cake was rolled up, because the décor paste was harder and less flexible than the surrounding sponge cake.
For her next try, she turned to Junko's deco roll method where, instead of décor paste, a small amount of sponge cake batter is used to pipe the decorative pattern, which ensures that the pattern and the cake are the same texture so that the cake rolls up with no problem. The sponge cake itself is very elastic thanks to all the whipped egg whites, and this method includes a simple syrup to brush on the cake to keep it moist and pliable. And it works like a charm! This sponge cake does not contain any chemical leaveners, so its volume is dependent on the air whipped into the egg whites, and you want to keep as much air in the batter as possible before it goes in the oven.
You can leave the vanilla sponge cake plain or tint it with food colouring, or you can make it cocoa or matcha or coffee-flavoured. The cocoa and matcha versions will be a little bit drier and therefore you must reduce the baking time by a minute or two, else it may crack a bit when rolling. Unless you are really good at free-handing your decoration, our hostess Korena recommends making a stencil for piping the pattern. It is important to remember that it will be a mirror image when baked into the cake, so make sure the words on the stencil are backwards so that they will be the right way around on the cake.
For positioning the stencil, if you have a pattern or decoration that you want centered on the top or evenly on each side of the roll (for example, a word written on the top of the roll), center the stencil in the middle of the 10″x10″/ 25 x 25cm pan. For the 9″x13″ / 23 x 33cm pan, center the stencil in the middle of the upper two-thirds of the pan and make sure the pattern is at the top when you are rolling up the cake. When piping the decoration, keep in mind that thicker lines are best – the thinner the line, the more likely it will stick to the parchment when you peel it off. When filling the roll, err on the side of less rather than more as the cake is much easier to roll with less filling.
DECORATED SWISS ROLL
Ingredients:
For the Egg Yolk Mixture
3 large egg yolks
35g / 2 tablespoons + 1 teaspoon caster sugar
60ml / 1/4 cup water
40ml / 2 tablespoons + 2 teaspoons vegetable oil
5ml / 1 teaspoon vanilla extract
80g / 4/5 cup cake flour
Pinch of kitchen salt
For the Pattern Mixture
15ml / 1 tablespoon above egg yolk mixture
Approximately 3g / 1 teaspoon cake flour
Food colouring, if desired
1 large egg white
Pinch of cream of tartar
For the Meringue
3 large egg whites
1/2 teaspoon cream of tartar
30g / 2 tablespoons caster sugar
Food colouring, if desired
For the Simple Syrup
10g / 2 teaspoons caster sugar
20ml / 4 teaspoons boiling water
1 ½ teaspoons liqueur, optional
For the Whipped Cream Filling
150ml / 2/3 cup heavy cream
15g / 1 tablespoon caster sugar
½ teaspoon vanilla extract
125ml / 1/2 cup fresh fruit or jam
Method:
Preheat oven to 340˚F / 170˚C. Line 10″x 10″/ 25 x 25 cm square baking pan with parchment paper.
Using a paper towel, lightly but thoroughly grease the parchment paper lining pan with vegetable oil.
Place stencil underneath parchment. For a square pan, make sure the pattern is in the middle of pan.
For a 9"x13" / 23 x 33cm rectangular pan, make sure the pattern is in the upper third of the rectangle.
Beat the egg yolks with the caster sugar on medium-high speed with a mixer until very pale and thick.
Add water, oil, and vanilla and mix to combine. Sift over flour and salt; mix to make a smooth batter.
Place 15ml / 1 tablespoon of the prepared egg yolk mixture in a small bowl and mix in the cake flour.
Divide mixture into as many small bowls as you need colours. Tint each with the desired food colour.
In clean bowl, beat the single egg white with an electric mixer and whisk attachment until it is foamy.
Add cream of tartar; beat till stiff peaks form. Measure out 45 ml/3 tablespoons egg white meringue.
Divide this portion of whipped egg white evenly between bowls of coloured mixture. Mix to combine.
Scrape each coloured mixture into a piping bag and pipe pattern onto the prepared parchment paper.
It is very important to remember to pipe the pattern in layers with the details in the foreground first.
To avoid smudging the pattern, freeze each layer of the pattern until firm before adding the next layer.
Bake the pattern in the preheated 340˚F/170˚C/Gas mark 4 oven for 60 to 90 seconds, until just set.
In a clean bowl, beat egg whites with an electric mixer and whisk attachment on medium-high speed.
Add cream of tartar and beat until soft peaks form. Gradually add in caster sugar, a spoonful at a time.
Beat whites until stiff and glossy peaks form and mix in any unused egg white from the previous steps.
If you want to tint the cake batter with food colouring, mix your desired colour into egg yolk mixture.
Mix the meringue into egg yolk mixture, folding gently with a spatula so as not to deflate the meringue.
Mix until batter is smooth and no streaks of meringue remain. Pour the batter over the baked pattern.
Spread batter evenly into pan then drop pan onto counter 2 to 3 times to dislodge any large air bubble.
Bake in preheated 340˚F / 170˚C / Gas mark 4 oven for 12 to 14 minutes, depending on the size of pan.
Bake until just set and slightly springy. Place a fresh piece of parchment paper on top of the baked cake.
Invert onto a rack. Lift off pan and stencil and gently peel parchment to reveal the baked-in decoration.
Place the parchment paper back on it and allow the cake to cool between the pieces of parchment paper.
Make sure cake is completely cool before filling. In small bowl, combine caster sugar and boiling water.
Mix until the sugar is dissolved. Stir in the liqueur, if desired. Peel parchment paper off the cooled cake.
Turn over so that pattern faces down and is horizontal. With a serrated knife, trim top and bottom edges.
Make some very shallow cuts horizontally across the cake, about 1″/ 2.5 cm apart to help with the rolling.
With a pastry brush, brush the simple syrup over the cake and let it soak in while you prepare the filling.
Whip cream until soft peaks form, then add sugar and vanilla and continue to beat until firm peaks form.
Spread jam evenly over cake. Leave the angled parts that you trimmed on the top and bottom edges bare.
Spread whipped cream evenly on top, leaving angled parts bare. Arrange fruit in lines in middle of cake.
Tightly roll up the cake from the bottom edge. Once rolled, twist parchment ends like a candy wrapper.
This will secure the cake in a log shape. Refrigerate the cake for at least one hour until the filling is firm.
Before serving, unwrap cake from the parchment paper and trim ends of the cake with serrated knife.
Roll up in parchment again and re-shape if necessary, then transfer to plate. Cut into slices. Serves 8.
Cake can be stored in the refrigerator, covered in plastic wrap for 2 days or in the freezer for 6 weeks.
Daring Bakers October Challenge