You are currently browsing the category archive for the 'Festive' category.
Happy Women's Day, my dear bloggers!
Today we celebrate the achievements of women all over the world and from all walks of life – from the dedicated homemaker to the independent career woman – who deserve to be honored for their significant contribution in shaping our present and future. As a spouse, daughter, sister, mother, co-worker or friend, a woman has an influential role in society, which is still unfortunately not acknowledged by many. While issues of gender bias and abuse persist at large, we still hesitate to take steps to raise awareness and empower women to recognize and stand up for their rights.
This year's campaign theme, Be Bold for Change, aims at bringing the contribution of male and female to equal value and closing the gender gap but is it an impossible dream? We are always under constant pressure to comply with the norms society imposes on us that we fail to express our true selves. I deem myself lucky to have escaped this coercion, having always been free to speak my mind and do what I feel right. Today, I choose to be bold and take some time out for myself. To recover from my horrible period cramps and post viral symptoms and to bake a simple chocolate cake from Nigella Lawson, one of my baking inspirations and a remarkably gifted woman.
CHOCOLATE OLIVE OIL CAKE
Ingredients:
50g cocoa powder, sifted
125 ml boiling water
2 teaspoons vanilla extract
150g ground almonds
1/2 teaspoon baking soda
1 pinch kitchen salt
150 ml regular olive oil
200g white caster sugar
3 eggs, room temperature
Method:
Preheat the oven to 170°C/325ºF. Grease a 23 cm/9-inch spring form cake tin with a little oil.
Line the base of the tin with baking parchment. Measure and sift the cocoa powder in a bowl.
Whisk the boiling water into the cocoa till you have a smooth and chocolatey but runny paste.
Whisk in vanilla extract, set aside to cool. Combine ground almonds with baking soda and salt.
Put sugar, olive oil and eggs in a mixer with paddle attachment, beat vigorously for 3 minutes.
You should have a pale-primrose, aerated and thickened cream. Turn the speed down a little.
Pour in cocoa mixture. When all is scraped in, slowly tip in the ground almonds and scrape it.
Stir it a little with a spatula. Pour batter into the prepared tin. Bake cake for 40 to 45 minutes.
Bake until the sides are set and the centre on top still looks slightly damp. Cool for 10 minutes.
Serve the chocolate cake cut into thin slices with vanilla ice cream, like a pudding. Serves 8-10.
Nigella's Olive Oil Chocolate Cake
There is no easy way to say what we're about to say but we sadly have to tell you that the Dec 2016 challenge will be the last daring kitchen challenge. Through the past two years we have tried everything we could think of to breathe life back into the daring kitchen but sadly the interaction and the number of members who actually take part in each challenge have been on a steady decline. We no longer see the point in asking hosts to put all that time and effort into making, photographing and writing challenges only to have a handful of people take part in them. It is really no one's fault but unfortunately it seems that the time for the daring kitchen has come to an end.
It has been a true pleasure to be part of the daring kitchen for all those years and an honor to run it in the past two. We just have one last favor to ask of you, we need your in help moving the archive. We are planning to move all the daring kitchen archives to a wordpress blog – for each recipe, the text needs to be copied, the images and pdfs saved, then everything rebuilt on wordpress. It will be a huge job, but worth the effort – we can then share the url and password with anyone who wants to pitch in, then publish once it is ready and rolling.
If you would like to help, leave a comment here or send an email to Rachael (rachael@pizzarossa.me) or to Sawsan (thechefindisguise@gmail.com). Finally, we would like to thank each and every one of you. The daring kitchen has been an amazing community through all these years. We have learnt so much from each other and there aren't enough words to express our gratitude for the kindness and support that you all showed us through these past two years.
This final Daring Kitchen Challenge is hosted by Francijn Brouwer, from Netherlands who blogs on "Koken in de Brouwerij" and has previously hosted challenges including "Stuffed Speculaas" and "Baumkuchen". This month she challenges everyone to bake oliebollen, commonly called Dutch Donuts. Nearly every Dutch person eats oliebollen on New Year's eve. Everywhere in The Netherlands you will find mobile oliebollen bakeries during the winter months.
The historical roots of oliebollen can be traced back to the Batavians and Frisians around the start of this era. At that time they were not round but flat, cooked in a small amount of oil and were called oliekoeken. In the middle ages a tradition was born of giving the poor people oliekoeken when they came to wish you a happy new year. Only in the wealthy 17th century people started to use more oil, and make these round oliebollen. Olie (pronounced: ow-ly) means oil and Koeken (singular: koek, pronounced: cook, cooken) is something like big cookies.
The cheapest oliebollen are just plain without filling and the worst are cooked in too cold or old oil, and are soggy. As I usually steer clear of fried stuff, I might have skipped this challenge, had it not been our very last chance of baking together with my fellow Daring bakers. I deliberately scooped my oliebollen smaller than the regular ice cream scoop size to create mini versions which I served warm with mango & pineapple jam on the sides.
OLIEBOLLEN
Ingredients:
300g / 2 1/2 cups whole wheat flour
200g / 1 1/2 cup plus 5 teaspoons all-purpose flour
10g / 3 teaspoons instant yeast
10g / 1 1/2 teaspoon kitchen salt
25g / 2 tablespoons caster sugar (light brown)
3g / 1/2 teaspoons ground cinnamon
150ml / 1 cup plus 2 tablespoons brown beer
175ml / 3/4 cup water (room temperature)
175ml / 3/4 cup milk (room temperature)
50g / 3 1/2 tablespoons unsalted butter (melted)
1 small egg, room temperature (beaten)
200g (7 oz., or 1 1/3 cups) raisins (without clumps)
1 small apple or half a big apple (firm variety)
Method:
In a large mixing bowl mix flours and yeast with a whisk. Add salt, sugar and cinnamon, and mix again.
Add beer, water and milk, melted butter, and egg. Attach the paddle to your mixer (or the dough hook).
Mix the ingredients thoroughly until the dough becomes elastic, a few minutes. Let rest for 15 minutes.
In the meantime cut the apple in small cubes. Add raisins and apple to dough, mix well with a spatula.
Put a wet towel over the bowl, and let the dough rise for about an hour until it is nearly doubled in size.
Put the oil in your deep fryer. Heat it to 180°C / 355°F. Have a timer handy to keep track of frying time.
To get ready for cooking: place baking tray on the counter and cover it with two layers of paper towels.
Have something ready to place scoops/spoons on so as to not cover your working counter with grease.
Once dough has doubled in size and the oil is hot, dip your ice scoop in the oil to avoid it from sticking.
Fill with dough, leveling against the side of the bowl. Take care to include reasonable amount of filling.
Release the dough ball carefully into the hot oil, by sticking the scoop into the oil and pulling the lever.
Start timer and observe the oliebol. It will start floating around, and after some time, should turn over.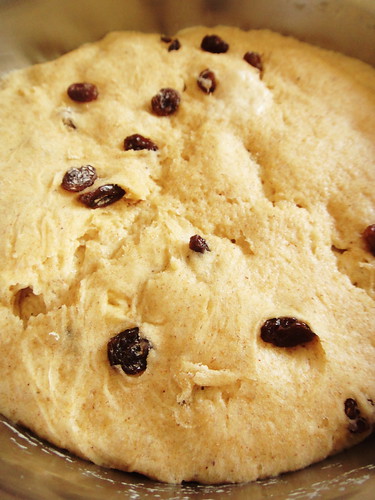 If the oliebol does not turn over, help it by flipping it when the frying time is halfway over, using a fork.
After five minutes of frying, take it out of the oil and put it on the tray with paper towel. Wait a minute.
Cut it through the middle with a sharp knife and check the centre of oliebollen for a bread-like texture.
If you are satisfied with the doneness of the texture, start again, but now with a few oliebollen at once.
Keep frying till no dough is left, and make sure the oliebollen are all same size for even cooking times.
Oliebollen are best when eaten when they are still hot and crunchy and sprinkled with powdered sugar.
Makes 25 oliebollen (each around 6cm / 2.5″ in diameter). Do not store oliebollen in the refrigerator.
Oliebollen freeze very well. Just put them in an airtight container and you can enjoy them for months.
Daring Bakers December 2016 Challenge