You are currently browsing the category archive for the 'Winter' category.
There is no easy way to say what we're about to say but we sadly have to tell you that the Dec 2016 challenge will be the last daring kitchen challenge. Through the past two years we have tried everything we could think of to breathe life back into the daring kitchen but sadly the interaction and the number of members who actually take part in each challenge have been on a steady decline. We no longer see the point in asking hosts to put all that time and effort into making, photographing and writing challenges only to have a handful of people take part in them. It is really no one's fault but unfortunately it seems that the time for the daring kitchen has come to an end.
It has been a true pleasure to be part of the daring kitchen for all those years and an honor to run it in the past two. We just have one last favor to ask of you, we need your in help moving the archive. We are planning to move all the daring kitchen archives to a wordpress blog – for each recipe, the text needs to be copied, the images and pdfs saved, then everything rebuilt on wordpress. It will be a huge job, but worth the effort – we can then share the url and password with anyone who wants to pitch in, then publish once it is ready and rolling.
If you would like to help, leave a comment here or send an email to Rachael (rachael@pizzarossa.me) or to Sawsan (thechefindisguise@gmail.com). Finally, we would like to thank each and every one of you. The daring kitchen has been an amazing community through all these years. We have learnt so much from each other and there aren't enough words to express our gratitude for the kindness and support that you all showed us through these past two years.
This final Daring Kitchen Challenge is hosted by Francijn Brouwer, from Netherlands who blogs on "Koken in de Brouwerij" and has previously hosted challenges including "Stuffed Speculaas" and "Baumkuchen". This month she challenges everyone to bake oliebollen, commonly called Dutch Donuts. Nearly every Dutch person eats oliebollen on New Year's eve. Everywhere in The Netherlands you will find mobile oliebollen bakeries during the winter months.
The historical roots of oliebollen can be traced back to the Batavians and Frisians around the start of this era. At that time they were not round but flat, cooked in a small amount of oil and were called oliekoeken. In the middle ages a tradition was born of giving the poor people oliekoeken when they came to wish you a happy new year. Only in the wealthy 17th century people started to use more oil, and make these round oliebollen. Olie (pronounced: ow-ly) means oil and Koeken (singular: koek, pronounced: cook, cooken) is something like big cookies.
The cheapest oliebollen are just plain without filling and the worst are cooked in too cold or old oil, and are soggy. As I usually steer clear of fried stuff, I might have skipped this challenge, had it not been our very last chance of baking together with my fellow Daring bakers. I deliberately scooped my oliebollen smaller than the regular ice cream scoop size to create mini versions which I served warm with mango & pineapple jam on the sides.
OLIEBOLLEN
Ingredients:
300g / 2 1/2 cups whole wheat flour
200g / 1 1/2 cup plus 5 teaspoons all-purpose flour
10g / 3 teaspoons instant yeast
10g / 1 1/2 teaspoon kitchen salt
25g / 2 tablespoons caster sugar (light brown)
3g / 1/2 teaspoons ground cinnamon
150ml / 1 cup plus 2 tablespoons brown beer
175ml / 3/4 cup water (room temperature)
175ml / 3/4 cup milk (room temperature)
50g / 3 1/2 tablespoons unsalted butter (melted)
1 small egg, room temperature (beaten)
200g (7 oz., or 1 1/3 cups) raisins (without clumps)
1 small apple or half a big apple (firm variety)
Method:
In a large mixing bowl mix flours and yeast with a whisk. Add salt, sugar and cinnamon, and mix again.
Add beer, water and milk, melted butter, and egg. Attach the paddle to your mixer (or the dough hook).
Mix the ingredients thoroughly until the dough becomes elastic, a few minutes. Let rest for 15 minutes.
In the meantime cut the apple in small cubes. Add raisins and apple to dough, mix well with a spatula.
Put a wet towel over the bowl, and let the dough rise for about an hour until it is nearly doubled in size.
Put the oil in your deep fryer. Heat it to 180°C / 355°F. Have a timer handy to keep track of frying time.
To get ready for cooking: place baking tray on the counter and cover it with two layers of paper towels.
Have something ready to place scoops/spoons on so as to not cover your working counter with grease.
Once dough has doubled in size and the oil is hot, dip your ice scoop in the oil to avoid it from sticking.
Fill with dough, leveling against the side of the bowl. Take care to include reasonable amount of filling.
Release the dough ball carefully into the hot oil, by sticking the scoop into the oil and pulling the lever.
Start timer and observe the oliebol. It will start floating around, and after some time, should turn over.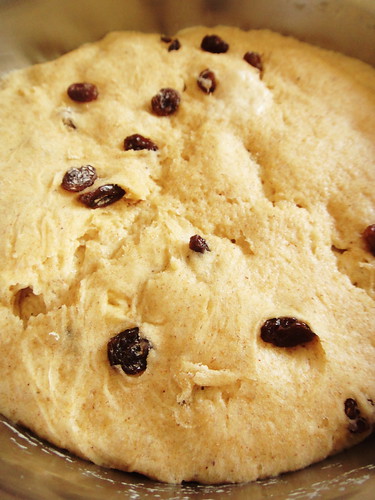 If the oliebol does not turn over, help it by flipping it when the frying time is halfway over, using a fork.
After five minutes of frying, take it out of the oil and put it on the tray with paper towel. Wait a minute.
Cut it through the middle with a sharp knife and check the centre of oliebollen for a bread-like texture.
If you are satisfied with the doneness of the texture, start again, but now with a few oliebollen at once.
Keep frying till no dough is left, and make sure the oliebollen are all same size for even cooking times.
Oliebollen are best when eaten when they are still hot and crunchy and sprinkled with powdered sugar.
Makes 25 oliebollen (each around 6cm / 2.5″ in diameter). Do not store oliebollen in the refrigerator.
Oliebollen freeze very well. Just put them in an airtight container and you can enjoy them for months.
Daring Bakers December 2016 Challenge
Elaichi chai is the craze at the moment, at least in our hospital mess. No night shift can ever be over without at least one dose of this comfortingly aromatic hot beverage expertly brewed by my interns who also happen to be very good self-taught cooks. It has become something of a ritual for us to gather around the mess table for a cup of freshly brewed elaichi chai before going back to casualty to deal with patients having the usual late-night complaints. I think it is what  keeps me going through the dreary 31hour shifts when duty compels me to overlook food and sleep. In an attempt to recreate JNH mess elaichi chai at home, I went ahead and made a gourmet version by adding whole vanilla beans and oodles of condensed milk to my regular Bois Cheri loose black tea. First come, first served!
ELAICHI CHAI
Method:
1/3 cup full fat milk powder
1 1/4 cup lukewarm water
1 tablespoon granulated sugar
1 1/2 teaspoons black tea leaves
2 green cardamom pods
1/4 vanilla bean, split lengthwise
2 tablespoons condensed milk
Method:
Combine milk powder and water in a saucepan till dissolved. Warm over low heat until it bubbles.
Crush cardamom, add the seeds and the vanilla pod to the boiling milk. Add sugar and stir it well.
Reduce heat and leave the milk to simmer for a about a minute until the mixture thickens slightly.
Add tea leaves and allow to infuse for 2-3 minutes until the mixture begins to bubble once again.
Remove from heat, strain the mixture using a fine mesh sieve into a large teapot or another pan.
Condensed milk may be added to elaichi chai for extra sweetness. Serve hot. Makes one serving.
Hot Elaichi Chai
For the past few days, I have been sick with sore throat, low grade fever, headache and very little appetite. Even my favourite foods could not tempt me to join the dinner table at meal times and the only comfort I had was to sip on hot lemon tea, generously flavoured with honey and sweet spices. The other classic remedy for cold and flu which works well to this day is chicken soup. On a more scientific note, chicken soup is believed to be endowed with anti-inflammatory properties which help in alleviating the flu-like symptoms. This simple recipe, adapted from Taste.com.au, works wonders in fighting off the effects of viral illness and restoring the desire for healthy, homemade food.
CREAMY CHICKEN & CORN SOUP
Ingredients:
4 cups chicken stock/broth
400 g single chicken breast fillets
1 tablespoon light soy sauce
2 teaspoons finely grated fresh ginger
1 tablespoon corn flour + 1/4 cup water
300 g can corn kernels, drained
400 g can creamed sweet corn
2 egg whites, room temperature
1 teaspoon sesame/vegetable oil
6 green shallots, thinly sliced
Salt and black pepper, to taste
Method :
Place the stock and chicken in a large saucepan and bring to the boil over high heat. Reduce heat to low.
Simmer for 5 minutes or until the chicken is cooked through. Transfer the chicken to a heatproof bowl.
Set aside for 5 minutes to cool slightly. Finely shred. Add the soy sauce and ginger to the stock mixture.
Place the corn flour in a small bowl and gradually stir in the water until it is smooth and well combined.
Gradually stir corn flour mixture into stock mixture. Cook, stirring occasionally, for 2 minutes until it thickens.
Add the chicken, creamed corn and corn kernels and cook, stirring occasionally, for 2 minutes or until it is hot.
Use a fork to whisk the egg whites in a small bowl. Gradually pour egg whites into the soup, stirring constantly.
Cook for 2 minutes until white ribbons swirl though the soup. Remove from heat. Add the sesame oil and stir.
Add half the green shallot to the soup mixture and stir to combine. Season with salt and pepper as per taste.
Ladle the soup among serving bowls and sprinkle with the remaining green shallot. Serve soup immediately.
Chicken Soup for the Soul