You are currently browsing the tag archive for the 'deep fried' tag.
There is no easy way to say what we're about to say but we sadly have to tell you that the Dec 2016 challenge will be the last daring kitchen challenge. Through the past two years we have tried everything we could think of to breathe life back into the daring kitchen but sadly the interaction and the number of members who actually take part in each challenge have been on a steady decline. We no longer see the point in asking hosts to put all that time and effort into making, photographing and writing challenges only to have a handful of people take part in them. It is really no one's fault but unfortunately it seems that the time for the daring kitchen has come to an end.
It has been a true pleasure to be part of the daring kitchen for all those years and an honor to run it in the past two. We just have one last favor to ask of you, we need your in help moving the archive. We are planning to move all the daring kitchen archives to a wordpress blog – for each recipe, the text needs to be copied, the images and pdfs saved, then everything rebuilt on wordpress. It will be a huge job, but worth the effort – we can then share the url and password with anyone who wants to pitch in, then publish once it is ready and rolling.
If you would like to help, leave a comment here or send an email to Rachael (rachael@pizzarossa.me) or to Sawsan (thechefindisguise@gmail.com). Finally, we would like to thank each and every one of you. The daring kitchen has been an amazing community through all these years. We have learnt so much from each other and there aren't enough words to express our gratitude for the kindness and support that you all showed us through these past two years.
This final Daring Kitchen Challenge is hosted by Francijn Brouwer, from Netherlands who blogs on "Koken in de Brouwerij" and has previously hosted challenges including "Stuffed Speculaas" and "Baumkuchen". This month she challenges everyone to bake oliebollen, commonly called Dutch Donuts. Nearly every Dutch person eats oliebollen on New Year's eve. Everywhere in The Netherlands you will find mobile oliebollen bakeries during the winter months.
The historical roots of oliebollen can be traced back to the Batavians and Frisians around the start of this era. At that time they were not round but flat, cooked in a small amount of oil and were called oliekoeken. In the middle ages a tradition was born of giving the poor people oliekoeken when they came to wish you a happy new year. Only in the wealthy 17th century people started to use more oil, and make these round oliebollen. Olie (pronounced: ow-ly) means oil and Koeken (singular: koek, pronounced: cook, cooken) is something like big cookies.
The cheapest oliebollen are just plain without filling and the worst are cooked in too cold or old oil, and are soggy. As I usually steer clear of fried stuff, I might have skipped this challenge, had it not been our very last chance of baking together with my fellow Daring bakers. I deliberately scooped my oliebollen smaller than the regular ice cream scoop size to create mini versions which I served warm with mango & pineapple jam on the sides.
OLIEBOLLEN
Ingredients:
300g / 2 1/2 cups whole wheat flour
200g / 1 1/2 cup plus 5 teaspoons all-purpose flour
10g / 3 teaspoons instant yeast
10g / 1 1/2 teaspoon kitchen salt
25g / 2 tablespoons caster sugar (light brown)
3g / 1/2 teaspoons ground cinnamon
150ml / 1 cup plus 2 tablespoons brown beer
175ml / 3/4 cup water (room temperature)
175ml / 3/4 cup milk (room temperature)
50g / 3 1/2 tablespoons unsalted butter (melted)
1 small egg, room temperature (beaten)
200g (7 oz., or 1 1/3 cups) raisins (without clumps)
1 small apple or half a big apple (firm variety)
Method:
In a large mixing bowl mix flours and yeast with a whisk. Add salt, sugar and cinnamon, and mix again.
Add beer, water and milk, melted butter, and egg. Attach the paddle to your mixer (or the dough hook).
Mix the ingredients thoroughly until the dough becomes elastic, a few minutes. Let rest for 15 minutes.
In the meantime cut the apple in small cubes. Add raisins and apple to dough, mix well with a spatula.
Put a wet towel over the bowl, and let the dough rise for about an hour until it is nearly doubled in size.
Put the oil in your deep fryer. Heat it to 180°C / 355°F. Have a timer handy to keep track of frying time.
To get ready for cooking: place baking tray on the counter and cover it with two layers of paper towels.
Have something ready to place scoops/spoons on so as to not cover your working counter with grease.
Once dough has doubled in size and the oil is hot, dip your ice scoop in the oil to avoid it from sticking.
Fill with dough, leveling against the side of the bowl. Take care to include reasonable amount of filling.
Release the dough ball carefully into the hot oil, by sticking the scoop into the oil and pulling the lever.
Start timer and observe the oliebol. It will start floating around, and after some time, should turn over.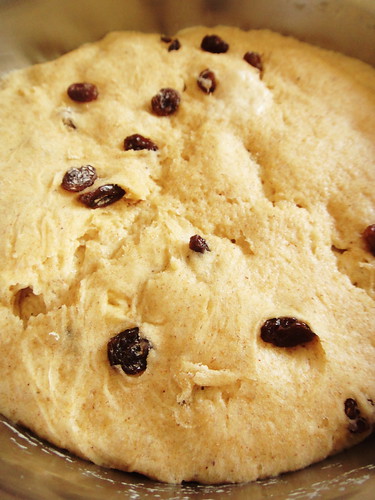 If the oliebol does not turn over, help it by flipping it when the frying time is halfway over, using a fork.
After five minutes of frying, take it out of the oil and put it on the tray with paper towel. Wait a minute.
Cut it through the middle with a sharp knife and check the centre of oliebollen for a bread-like texture.
If you are satisfied with the doneness of the texture, start again, but now with a few oliebollen at once.
Keep frying till no dough is left, and make sure the oliebollen are all same size for even cooking times.
Oliebollen are best when eaten when they are still hot and crunchy and sprinkled with powdered sugar.
Makes 25 oliebollen (each around 6cm / 2.5″ in diameter). Do not store oliebollen in the refrigerator.
Oliebollen freeze very well. Just put them in an airtight container and you can enjoy them for months.
Daring Bakers December 2016 Challenge
Published in the January 2016 edition of the famous Bon Appetit magazine, this particular recipe for crispy mozzarella sticks is the offering of its senior food editor, Andy Baraghani who does not compromise with the crunch factor. The sticks are double battered in layers of flour, egg and panko breadcrumbs which you will find in the Japanese gourmet section along with sushi making kits and green or red curry pastes. The sticks can be conveniently made in advance and frozen in batches to be served piping hot as appetizers for any brunch or dinner party you are planning to host.
MOZZARELLA STICKS
Ingredients:
1 pound mozzarella
3/4 cup all-purpose flour
3 large eggs, room temperature
3 tablespoons whole milk
2 cups breadcrumbs
1½ teaspoons garlic powder
1½ teaspoons onion powder
1 teaspoon dried basil
1 teaspoon dried oregano
1 teaspoon dried parsley
1 teaspoon dried thyme
Vegetable oil, for frying
Kosher salt, for seasoning
Method:
Cut mozzarella into 3 x 1/2″ pieces. Place flour in a shallow dish. Whisk eggs and milk in another dish.
Mix breadcrumb, garlic powder, onion powder, dried basil, oregano, parsley, and thyme in third dish.
Working with one piece of mozzarella at a time, dredge in flour, shaking off excess. Dip in egg mixture.
Then coat in the breadcrumb mixture, pressing to adhere. Repeat the same steps for a second coating.
Transfer to a wire rack set inside a rimmed baking sheet. Repeat with remaining pieces of mozzarella.
Transfer the wire rack to freezer and freeze at least 1 hour. Fit a large pot with deep-fry thermometer.
Pour in the vegetable oil to come 2″ up sides. Heat over medium-high till thermometer registers 350°.
Working in batches, fry mozzarella, turning occasionally, till golden brown and crisp, 2 to 2½ minutes.
Transfer the sticks to a paper towel-lined plate, season with salt while still hot. Makes about 24 pieces.
Mozzarella Cheese & Herb Sticks
Curried gato pima or cari bari is often part of the menu for Indian weddings or prayers as part of the traditional 7caris. The fritters are cooked in a gravy thickened with split pea paste and flavored with cumin and turmeric. Typically served with lighter sides like rougaille and steamed vegetables such as pumpkin or chayote/chouchou to offset the pungent mix of spices, the dish can be enjoyed with hot puris and plain steamed rice alike. Though the long list of ingredients may look daunting at first sight, it is by far one of the best vegetarian dishes you need to be able to make on your own. The recipe is from my mom who must have got it while giving a helping hand to prepare food for wedding feasts. I have seen recipes of cari bari with fried aubergines but I have yet to give it a try, so let me know if you do.
CARI BARI
Ingredients:
1 batch homemade gato pima
1/2 cup gato pima paste, uncooked
1 1/2 tablespoons cumin seeds
5 whole black peppercorns
1 small onion, chopped
5 garlic cloves, chopped
1 cm fresh ginger, chopped
1 tablespoon vegetable oil
1 medium red onion, sliced
2 sprigs fresh thyme leaves
5 cari poulé leaves/ curry leaves
1 small green chili, chopped
1 tablespoon turmeric powder
1 tablespoon fresh tamarind
1 small bunch coriander leaves
Salt and pepper, to taste
Method:
Prepare gato pima as per recipe instruction. Remember to set 1/2 cup uncooked gato pima paste aside.
The recipe should yield about 20-25 large gato pima. Drain well to remove any excess oil and set aside.
Next, start by preparing the spices for the curry. Dry roast the cumin seeds in a small pan till aromatic.
Grind them along with the peppercorns on a roche carri or in an electric grinder to get a fine powder.
Transfer powdered spices to a small bowl, next process the chopped onion, garlic and ginger together.
In a large, heavy-based sauce pan, heat oil and sauté the sliced onion until it turns slightly translucent.
Add the thyme leaves, cari poulé/curry leaves, green chili and sauté for another minute until fragrant.
Stir in turmeric along with 1 cup water, bring to the boil. Combine fresh tamarind with 1/2 cup water.
Discard tamarind seeds, add the pulp to the curry mixture. Then add the uncooked gato pima paste.
Cover and simmer for 2-3 minutes until it thickens slightly. Drop the fried reserved gato pima into it.
Season curry with salt and pepper to taste. Simmer for another 1-2 minutes before turning the gas off.
Garnish with freshly chopped coriander leaves and serve it with plain rice or farata. Makes 8 servings.
Cari Bari